Community Engagement Award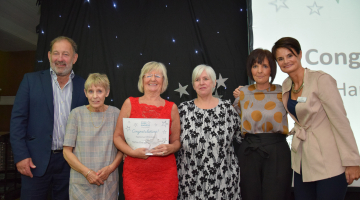 Staff and residents at Harton Grange in South Shields are celebrating after the team were crowned as the national winner of the Community Engagement Award at the Barchester Care Awards 2018.
The judge for the category, Barchester's Anna Shirley, Director of Customer Experience, said of the home that "it can be easy for people to forget about a care home because we all live busy lives, but Lesley "the legend" Gregg [General Manager at Harton Grange] doesn't let that happen. Community at Harton Grange means residents are not only safe and respected, but are seen and heard from the activities Coordinator Karen who plays the banjo for spontaneous sing-a-longs; to Joy and her wonderful menus full of everyone's favourite sweet treats; the team all make sure that people in South Shields keep up and get involved".
Lesley Gregg, General Manager at Harton Grange said: "We love our community in South Shields, they're like our extended family. Our doors are always open to neighbours and friends."
Other Finalists: