Dinar Matre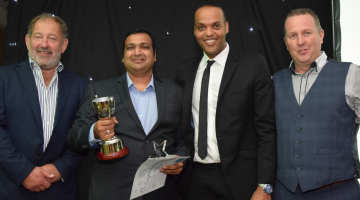 Staff and residents are celebrating at Strachan House in Edinburgh after Head Chef, Dinar Matre, was named 'Chef of the Year' at Barchester Care Awards 2018.
Dr Pete Calveley, CEO, a judge for the category, said of Dinar that "his thoughtful meals and clever menus demonstrate not only his passion for cooking, but his determination to provide nutritious and tasty dishes for the residents he cooks for. Understanding all elements in the experience of eating at a care home, from brightly coloured dishes, wonderful smells to seasonal ingredients, as well as giving plentiful choice to those at the home, some who require modified dishes to make them easier to eat, or those who have been poorly and require a diet rich in vitamins, calcium and healthy fats, Dinar provides all of that and so much more. Worries about food when moving into a care home are one of the top questions we get during visits to the homes, and Dinar does a brilliant job putting both residents and their relatives' minds at ease, and creating dishes for all to enjoy."
Dinar said of his win that, "I am very proud, and very honoured to be receiving this award. We work hard here at Barchester with a focus on the people we care for, and not for accolades, but it really is very special to be recognised in this way."
Congratulations Dinar!
Other Finalists: